Following the restoration of peace in her neighbouring communities, visiting Kidepo Valley National Park now features on almost every adventures bucket list. Matter of fact, I bet a convey of over three cars is ferrying visitors to the park as you read this. However, the adventure was not for the fainthearted prior to 2007. From almost all her frontiers, it used to rain bullest and tears of civil wars.
According to Pulkol Emmanuel, 34, a local tour guide who has been working in the park since 2002, if one attempted to approach her from the West through Lango and Acholi, they would be treated to a lethal welcome by the Lord's resistance army rebels. One the other hand, approaching from the Eastern route via Kotido and Kaboong meant driving into ambushes of armed unforgiving cattle rustlers.
Worse still, the Southern Sudan route too was out of option due to then on-going SPLA war. To this effect, anyone who was desperate to visit the park had to charter a plane to fly them in. In the event that they couldn't afford this option, they had to leave their will behind before embarking on the safari by road. The chances of survival were slim.
In a positive twist of events, things are back to normal. Not only are the roads feeding the park so secure for a travel at any time of the day but also fully rehabilitated to accommodate the increasing tourist traffic towards the park.
Accessibility to the park
For travelers planning on combing this Karamoja Uganda Safari with the Mountain Elgon National Park or Sipi Falls, the route through Mororto District is highly recommendable for its convenience. Exit Kampala via Jinja and follow the Kenya bound highway. From Iganga, take the Tirinyi road shortcut that leads to Mbale, a one stop District where you left with the drive to the parks Mataba gate through Moroto, Kotido and Kaboong. All together, this should total to about 750kms one way.
First experience the amazing Sipi Falls and the exceptional Arabic coffee experience from beans to the cup ready to consume. Here the nice stay can be at the Sipi River Lodge offering the ambiance cool environs and if you are looking for some thing budget and good there are various camps like Moses' Camp to take an overnight stay.
On the other hand, there are two options for travelers who would like to approach the park through the west. While the Kampala – Gulu- Kitgum- Kidepo option totals to 571km one way, the Kampala- Kamdini- Kotido- Kaabong- Kidepo option is 707km.
What to know about traveling by road
Regardless of the option are takes, it is advisable to spend the night in the nearest town should darkness fall before they have made it to the park as the parks gates close at 7pm. All these towns are well served with hospitality facilities inclusive of restaurant, service stations and Hotels. While budget accommodation in ranges between sh20,000- 50,000, high end accommodation ranges between sh 50,000,- 150,000.
For an accurate planning, it is recommendable to tag along with a detailed map that describes the route. One such is the Kidepo Valley National Park Map by Andrew Roberts.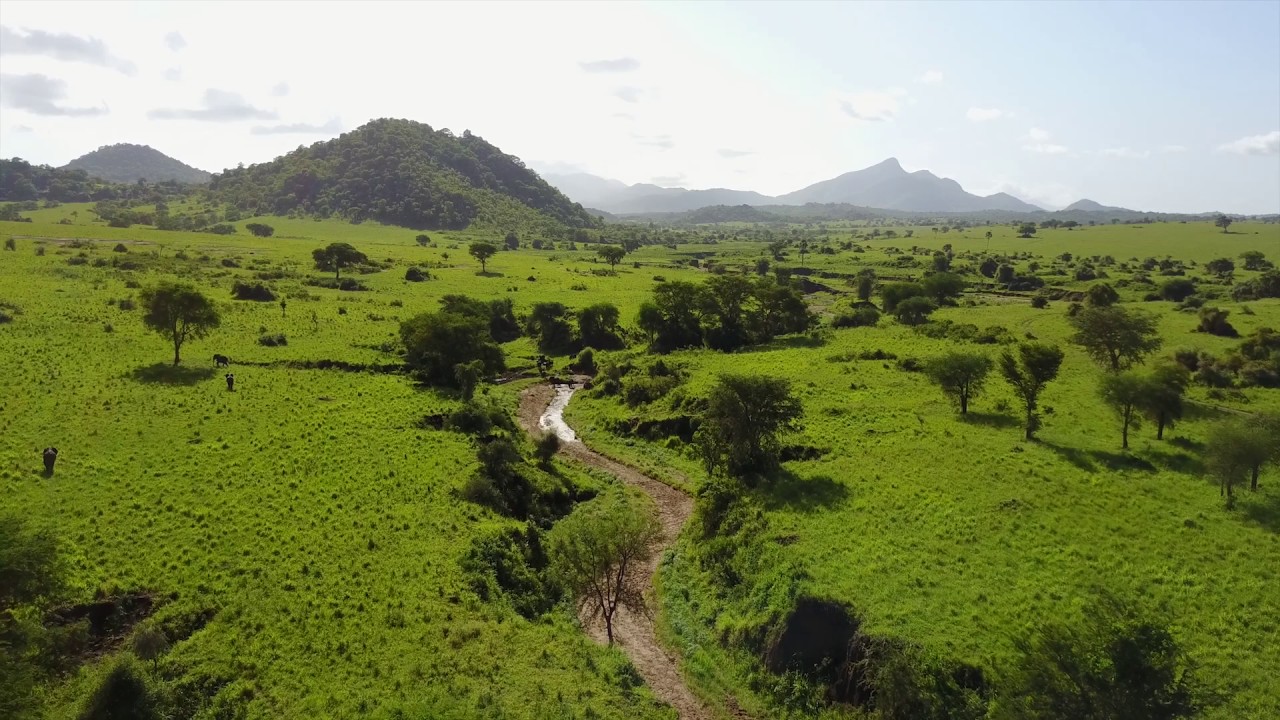 Flying
For travelers interested in enjoying panoramic views, Aero link and Fly Uganda (domestic airlines) offer daily flights to the park at a fee ranging between $350-500 per sit. The flight lasts about two hours.
Game Drives in Kidepo National Park
It is one thing going to the national park and it is a completely different thing to have fun; the fun is never guaranteed. But if you have to have fun, don't forget the game drives. They are adventurous in every sense of the word. They ate fun-filled, emotive, captivating and you don't have to miss them. Kidepo National Park offer game drives that you don't find elsewhere on the face of the world. The drives through the park are memorable; they stick at the back of your head like a frozen sculpture. But they differ with time.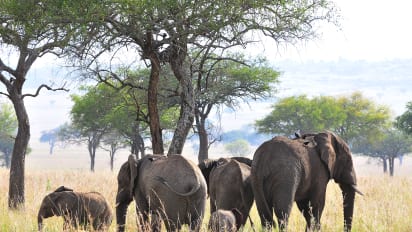 Morning Game Drives  
Wake up from your patio, or cottage, or rent at the break of dawn. Wake up early because you might miss the magic of Africa, magic of Kidepo. The morning game drives are unrivalled because mornings are mornings; they cruising through the park, mist covering the greenery, you will chance on different species of birds. These birds are only available in the mornings. If you are a bird-enthusiast, set your timer.
This is the time when the wildlife is vibrant lively. When it is still and cold. When the park and the rest of the wildlife is waking up to herd. During the game drive, you will see elephants, many elephants. They came out in the morning, hungry like a street beggar. Stay away from them. You have to. They will trumpet and show signs of excitement, but in the process, they will show signs of discomfort. When they trumpet, they are basically telling you to sod off; steer away from them.
Stand a distance from them, but still, marvel at the giant beauty before you, the large ears and the little tail swaying aimlessly at their backs. And in the morning, the park is picturesque. You will capture the new dawn and the sunrise that illuminates and glows the bright African sky. The memories will be stuck.
Evening and Night   
The park is not always busy at lunchtime. So, the game drives are not that ideal. But when darkness inks the sky, the park wakes up again. First, don't miss the sunset. Capture the sunset as the sun expunges grudgingly. Most wildlife, at this time, have finished with the day. They have eaten pasture and eaten themselves and roamed the earth. They have cut the grass, broken brunches off trees, emptied ditches, locked horns, ran for their dear lives, chased each other and they are trekking home.
At least, to the place they call home. You will meet many of them, in groups, bantering away, chewing cud, clearing their throats. At night, the cats pour outside and roam the earth. They go out to play, in darkness. As you drive through, beam the headlights in their eyes, the spectacle will melt your heart. Take a picture. Take more pictures, but make sure your doors are firmly closed.
Keep your windows clenched shut because the cats are dangerous. They can hop and prance on you. They can scratch out your eyes as you dash headlights in their eyes. It is dangerous yet adventurous. You will see the lions. More lions, walking with stoic. Ambling with self-confidence, the king of the jungles. Sauntering like the world has nothing on them. Wandering about as though they are the chairmen of the park. Indeed they are, because where they pass, animals pat and bow for them. Bow for them if you have to. Take pictures, marvel at their fierceness. Kidepo National Park has cheetahs and leopards that you won't find in any national park in Uganda. It is only Kidepo National Park that teems with leopards and cheetahs don't miss them.
Extra activities and experiences of Kidepo
Nature Walk
Many a time, exploring a park by game drives can turn out to be very frustrating as the humming of the car engine might intimidate game prompting them to shy away. If you are not ready to take such chances in Kidepo, you might want to explore the park by nature walk. It takes the fun to another level, allowing one to encounter wildlife they would have missed out in a game drive. If this is your idea of what an adventure should be like, a new awe-inspiring 15km snaky trail has been developed in the Narus Valley.
The one year old trail which was created by the African Wildlife Foundation and UWA begins following the ridgeline of Rio Nomoy, a spot where Rio Nomoy famous hunter was buries and ends at Logirangole Dam, a permanent wetland that is home to reed bucks, buffalo herons. Ducks and jacans among species of birds and game. By virtue of its meandering course that is en route sandy riverbed of Kidepo River, Katurum lodge and various rivers, one traverses various landscapes each of which has possesses unique species. While at it, expect to totally get immersed in natural freshness that will allow your system to stock, reboot and rebuild.
Kanataruk Hot Springs  
According to legend, on a rainy day in late 18th century, Longorok, a resident of present day Lotukai village (found in the Northern wing of Kidepo) went to fetch water for their Karamojong king at present day Kidepo River, a few steps away from the South Sudan Border. As fate would have it, he was struck to death by lightening a few meters to the river. Barely an hour later, his corpse dissolved into a jetting hot spring that could boil foods like bananas in minutes. Decades later, she might not be as powerful as she was to erupt in space nor is she as hot as she was, however the hot springs is still exciting to see and feel. Better still, she is found at the wing of the park that is a habitat to over 100 ostriches and plentiful of other bird species inclusive of those endemic to the Karamoja region like the Karamoja Apalis.
Other attractions in this arena include penis shaped like ant hills and spot where fallen Southern Garanga breathed his last following a plane crash that spared none of the 10+ lives aboard. The other big catch here is ant hills and many arid land bird species inclusive of the Ostrich.
Directions
From Apoka, take the road that travels north through the relocation boma. Upon crossing the sandy wash of Kidepo River, continue for about 11km and you'll find the hot springs in a swamp- like area at the right side of the smooth muram road.