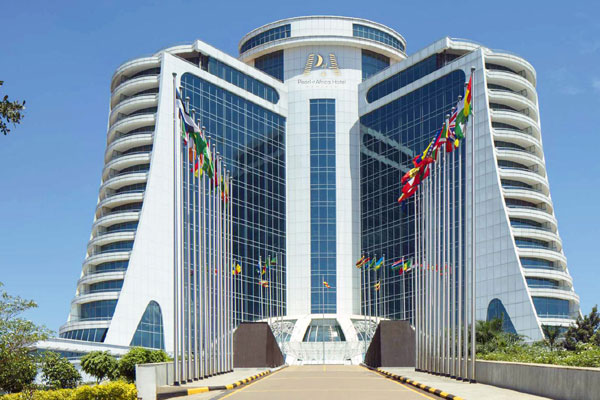 Planning to take tours in Uganda? Activities to experience include the hike the mountains, track the gorillas and chimpanzees, raft the Nile, and spot the tree climbing lions and so much more, but before or after you visit the game parks you can first take the city tours in Kampala, Jinja or Entebbe and here you can choose to stay in one of the best luxury hotels in Uganda. And with luxury lodges, five-star safari tents and getaways on a private island available, your adventure begins before you've even had breakfast.
Munyonyo Commonwealth Resort
For the serenity and fun of a lakeside holiday with a touch of luxe, Munyonyo has it all. Set in tropical gardens with an Olympic-sized swimming pool, it overlooks Lake Victoria and has the biggest private marina in the country, so you can swim, fish and sail, or paddle a resort canoe to nearby islands. Then when you get back, you can order a private, candlelit dinner for two under the stars with a specially curated menu.
The Humura Hotel
For an oasis of calm, made of timber and stone, with palms and creeper-covered walls embracing a pristine pool exists in the canter of Kampala. The Humura is great for business and political visitors just 2km (1.2mi) from parliament as well as holidaymakers, with the Uganda Museum and a golf course just a five-minute stroll away.
Latitude 0 Degrees
This stylish resort puts the natural beauty of Lake Victoria at your feet, has easy access to the nightlife of Kampala the CBD is 6km (4mi) away and, on the walls of your suite, there are colorful local artworks, from striking wire basketry to hand-beaded textiles and cleverly up-cycled furniture. The fresh Ugandan coffee (provided with a French press) will linger in your memory long after you leave.
Protea Hotel by Marriott Kampala
A smart choice for business travelers, with slick boardrooms, conference rooms and the sensational Skyz Deck, which can seat 300, Protea allows you to entertain clients with fine dining and four rooftop bars overlooking Kampala. Stay the pace by putting in time at the gym and pool. Tack on a weekend to catch the nearby sites, from Ndere Cultural Centre to the Kasubi Tombs, Independence Monument and the Uganda Martyrs Shrine.
Kyaninga Lodge
Kyaninga is the ultimate African luxury lodge experience in Uganda. Set against the stunning backdrop of Lake Kyaninga and the Rwenzori Mountains beyond, it's the result of one man's vision and six years of unwavering commitment to capturing the beauty of the continent. There are now nine exclusive cottages created from hand-carved logs, superb dining and a wealth of adventures, including a chimpanzee safari in Kibale National Park.
Kampala Serena Hotel is an oasis of cool and green, with a secure environment located in the heart of Kampala. Surrounded by 7ha (17 acres) of manicured water gardens, it lures the well-heeled with elegant accommodation, gourmet cuisine and superb conference facilities. There are 188 guest rooms, including 13 spacious suites that range from open-plan Executive to an exquisitely presented Royal Suite. Whichever you choose, you can lose yourself in the tropically styled free-form pool, tucked among rock terraces, wooden bridges and a waterfall. Then savour fine dining at The Lakes restaurant or unwind with friends at the Champagne Bar.
Lake Victoria Serena stands out among hotels in Uganda. It sits amid terraced rose gardens above its own marina on Lake Victoria and has its own PGA – affiliated championship golf course. The hotel itself resembles an Italianate palace with mosaics, an arched pool terrace and shaded colonnades. And furthering that palatial feel is the on-site Roman coliseum a photogenic wedding backdrop set amid water cascades and fountains.
Chobe Safari Lodge
Located in Murchison Falls National Park, this lodge offers luxury living sound tracked by the Nile rapids. Head to the three-tiered swimming pool for views of the river or gawp and dine at the water-view Karumba restaurant. You'll be hard pressed to leave, but make sure to take advantage of at least one of the other experiences on offer: perhaps breakfast in the bush, a nature walks through the national park or a safari drive.
Paraa Safari Lodge, in Murchison Falls National Park, offers a special blend of comfort, luxury and adventure. Set within landscaped gardens, it has rooms and suites with more than a hint of safari chic; opt for a stay in one of the three Safari Tents for a glamping experience in the bush. You can also enjoy a variety of excursions and activities, from exhilarating safari drives to boat trips along the Nile ending at the foot of Murchison Falls.
Mweya Safari Lodge, located on a peninsula within Queen Elizabeth National Park, is surrounded by the magical Rwenzori Mountains. It offers a range of activities and attractions: take a drive to discover an array of wild game, traverse the Kazinga Channel on a luxury boat or go on a bird watching adventure. Accommodation comes in the form of fussy, rustic rooms or suites, or you could book a luxury tent, which come with front decks overlooking the Kazinga.
Wildwaters Lodge
Nestled in a rain forest on a private island in the Nile, Wildwaters Lodge has 10 timber-floored rooms with free-standing baths on private terraces overlooking the rapids. Elevated wooden walkways link the rooms to the restaurant and bar area, and offer an unforgettable stroll through the forest. Enhance your jungle adventure with a stop at the in-house spa, where you can indulge in an open-air massage among the foliage.
Apoka Safari Lodge is found on a charming kopje (small hill) overlooking the Narus Valley within Kidepo National Park. If you're a nature lover, you'll be in heaven. Neighbours of the four-legged variety range from lions to leopards, and elephants to zebra. The lodge itself has 10 large rooms with canvas walls on a rocky hill, each with stretching Savannah views. There's also a shared sitting room plus a private veranda offering lots of places to unwind and read.