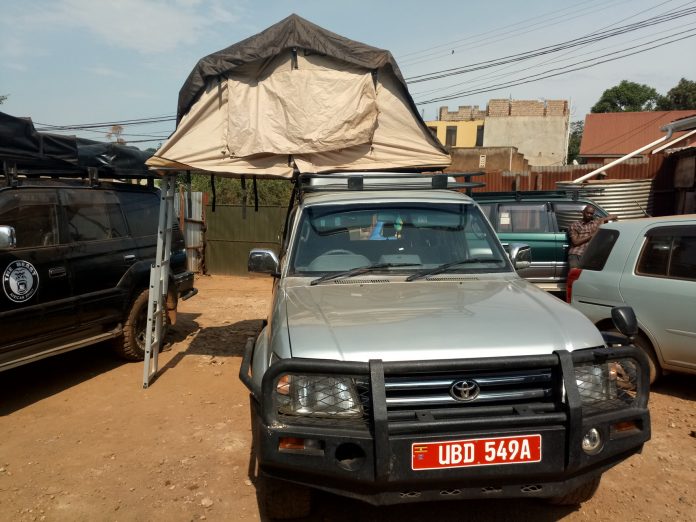 Uganda comprises of 10 national parks. Each of them is unique in its own way, hence attracting a large number of tourists to go adventure them.
These protected areas include; Bwindi Impenetrable, Queen Elizabeth, Murchison Falls, Kibale Forests, Kidepo Valley, Mgahinga, Semuliki, Rwenzori Mountains, Mountain Elgon, and Lake Mburo National Parks.
All of them can be visited on a guided trip or self drive using the rooftop tent car in Uganda. This is the best affordable option to take a long safari journey around the country.
Most places to visit in Uganda comprise of all what is needed for every traveler's adventure to be a magnificent and memorable one.
Are you a wildlife lover, a birder, mountaineer/hiker, photographer, nature, holiday maker, honeymooner, chimpanzee or a mountain gorilla lover, Uganda compiles all those for you in its gazzeted areas.
You are always guaranteed with long-lasting memories after visiting any of these parks. Listed below are other interesting draws you can soak up while on a Uganda safari.
Source of the Nile
River Nile is the longest River in Africa and there are so many claimed true sources of the Nile but none of them really fits the claim of the source of the Nile being in Jinja, eastern Uganda, no matter how correct they may be.
Due to the existence of the source of the Nile in Jinja city, the city is considered to be the 'Adventure Capital of East Africa' as it conducts a variety of activities at the source of the Nile like white-water rafting, and kayaking, and hence attracting a large number of tourists annually.
Actually, tourists visiting Jinja are always able to see water bubbles at the spot (which was claimed to be the source of the Nile by John Speke – European explorer), indicating there is water coming from underground as John Speke's findings were.
The spot (source of the Nile) is just a few meters from Africa's largest lake, Lake Victoria, which also contributes a very large portion to the Nile's waters.
Therefore, the source of the Nile in Jinja, at Lake Victoria, is one of the major reasons as to why Uganda receives a very large number of tourists annually.
Lake Victoria
Africa's largest and world's second largest lake, Lake Victoria, straddles through three East African countries and as a blessed country, Uganda is among these three lucky countries along with its companions Tanzania and Kenya.
Many of Uganda's travelers come with their major interest of visiting Lake Victoria which is also referred to as the largest Lake in the whole world as some cites claim, basing on their personal reasons.
There are very many activities visitors to the lake get involved in, in Uganda such as; fishing, swimming along the lake's shores (beaches), visiting the Ngamba Chimpanzee Island Sanctuary, and boat cruises, among others.
Murchison Falls
The stunning Murchison Falls are among the most powerful waterfalls in the world and the falls are the major attraction in one of Uganda's most prominent national parks – Murchison Falls National Park, its namesake too.
The Murchison Falls attract various wildlife species and there are many stunning activities that take place from there, such as; boat cruises, fishing, bird watching, and game viewing.
Other amazing activities carried out in Murchison Falls National Park are; chimpanzee tracking, cultural encounters/ community visits, game drives, and hot air balloon safaris.
Ssese Islands
The magnificent Ssese islands, located in the northwestern part of Lake Victoria, are very appropriate for holiday makers.
The islands are one of the most eat-out destinations in Uganda as they comprise of beautiful sandy beaches and many other amazing attractions such as; various bird species and primates like the common chimpanzees.
The Ssese islands are surely a heaven on earth and many people enjoy taking their holidays at the islands.
In conclusion, the above 8 attractions are among the reasons Sir Winston Churchill based on to refer Uganda to as the ''Pearl of Africa''.