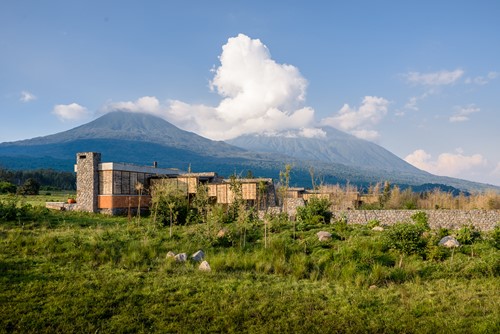 The first destination is usually Volcanoes National Park (an extension of the Virunga's) for gorilla tracking. Due to the dense, mountainous landscape, the treks are not easy but extraordinarily rewarding.  Volcanoes National Park also offers great bird watching and viewing of other primates. You can also do a 2-hour trek to Dian Fossey's tomb and the Karisoke Research Station.
Get the opportunity to engage with the endangered mountain gorillas and the local community, and is the perfect addition to any larger Africa itinerary. As the premier luxury destination for tracking the endangered mountain gorillas in Rwanda, Singita Kwitonda Lodge offers guests unparalleled panoramas, beautiful accommodations, and personalized service.
Rwanda has a number of unique tourist sports such as the 3 famous National Parks of Nyungwe, Akagera and Parc Nationale Des Volcanoes. Other tourist sites include, The National Museum in Butare, Genocide memorial sites, the old palace at Nyanza, craft villages, Lake Kivu and its surrounding near-by towns of Gisenyi and Kibuye.
While a visit to the mountain gorillas is often at the top of visitor, the dramatic landscape also offers thrilling hiking and visits to the fascinating golden monkeys.
Volcanoes National Park is also one of Rwanda's conservation epicenters, where many non-profit organizations base their operations. Visitors can pay homage to the legendary scientist and gorilla advocate Dian Fossey with a hike to her tomb or a visit to the Dian Fossey Gorilla Fund that continues her legacy of research and advocacy to this day.
Near the park, the bustling and vibrant markets of Musanze are a place to immerse yourself into everyday Rwandan culture. Go deep into the earth with Musanze's caves one of the area's newest attractions.
Nyungwe is surely one of the world's most beautiful and pristine mountain rain forests. It's believed to be one of Africa's oldest forests, staying green even through the Ice Age, which explains its diversity.
Home to habituated chimpanzees and 12 other primates' species (including a 400-strong troop of habituated Ruwenzori Black & White Colobus), it's also a birder's paradise with over 300 species, including 16 endemics, and is home to 75 different species of mammal.
Lake Kivu is stunningly beautiful lake and an incredible place to visit. With no hippos or crocodiles and crystal clear, clean water, it is also one of the safest lakes in Africa. So, come and explore, discover and journey along its interesting coastline. Watch unique fishing boats plying the water and find interesting villages as well as amazing bird life set amongst true peace and tranquility.