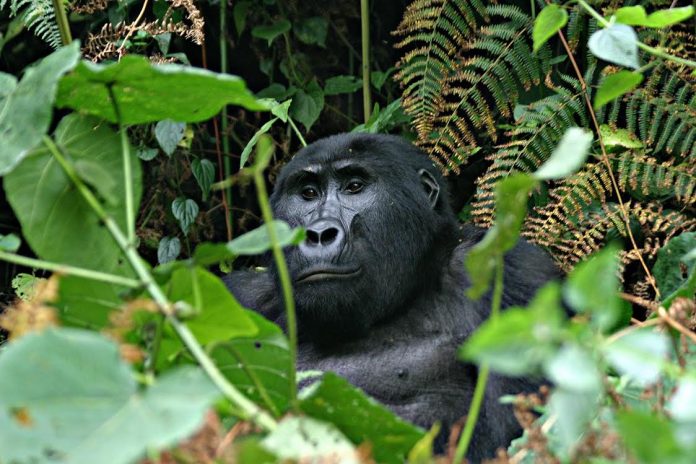 Volcanoes and Virunga National Parks are one of the best destinations in the world to enjoy your gorilla safari expeditions.
Volcanoes National Park is the only gorilla trekking national park in Rwanda, located in northwestern parts of the country.
Well as, Virunga National Park is located in the eastern parts of Democratic Republic of Congo, and both Parks (Virunga and Volcanoes) together with Uganda's Mgahinga Gorilla National Park form the Virunga massif.
The Virunga massif is the strong hold for the rare endangered mountain gorillas, and these rare primates can only be found in two destinations world-wide; Virunga massif and Bwindi Impenetrable Forest National Park in southwestern Uganda.
Since both Volcanoes and Virunga National Parks lie under the same conservation area (Virunga massif), it will be very easy for the travelers to trek mountain gorillas in both Parks for an extra-ordinary experience in gorilla safaris, as both Parks have different habituated gorilla families which a traveler will interact with during the his/her gorilla expeditions in both Parks.
A traveler can start his/her trekking expeditions in Rwanda, thus once you arrive at Kigali International Airport, Rwanda's international airport, you will either spend the night in one of Kigali's good hotels or your driver-guide will drive you directly to your booked accommodation in Volcanoes National Park, depending on the time you will have arrived in Kigali, Rwanda.
Some of the best accommodations in Volcanoes National Park include: Bisate Eco Lodge, Singita Kwitonda Silver Back Lodge & Kataza House, Sabyinyo Silver Back Lodge, One & Only Gorilla's Nest Lodge, Jack Hanna's Guest House, Five Volcanoes Boutique Hotel, Bishops House, Lebambou Gorilla Lodge, Lapalme Hotel among others.
Your chosen tour agency such as Eco Tours Rwanda or Eco Tours Congo that will do all the necessities for your entire safari including; booking of your accommodation in the Park, airport pick-up, hiring you a good 4×4 vehicle of your choice, and buying for you a visa and a gorilla permit.
For the proper planning of your safari and for it to be an exceptional one, you are highly emphasized to book in advance, at least three months ahead of your safari.
A gorilla trekking permit in Rwanda costs US$ 1500 of which the permit will be purchased by your tour agency on your behalf and it will be handed over to you when you have arrived in Rwanda and cleared all the fees for your entire safari.
However, in order to secure your safari with the agency, you will be asked to pay at least a 30% deposit such that the tour agency will start planning for your safari thoroughly well without hopes of you cancelling the safari.
Also, if you are having a conference and seminar in Rwanda you can acquire a discounted gorilla permit of $ 1275 USD and then those traveling during low season from November to May and visiting 2 or 3 Rwanda parks you are entitled to get a more discounted permit of $ 1050 USD per person.
Therefore, when booking your trip in Rwanda work hand in hand with reliable travel agencies available to advise on which permit to get during your travel time.
Volcanoes National Park is only a two and half hours' drive from Kigali (Rwanda's capital) and the Park comprises of more than 250 mountain gorillas and 11 habituated gorilla families.
The 11 habituated gorilla families in Rwanda include; Karisimbi, Sabyinyo, Susa 1, Titus, Kwitonda, Umubano, Hirwa, Agashya, Amahoro, Ugenda, and Bwenge.
Besides gorilla trekking, travelers to Volcanoes National Park will also get involved in many other activities such as; hiking Bisoke or Karismbi volcanoes, trekking of golden monkeys, visiting Dian Fossey tomb, birding, and game viewing.
A golden monkey trekking permit in Rwanda costs US$ 100, Karisimbi volcano hiking permit costs US$ 400 per person and US$ 300 per person in a group, well as Bisoke volcano hiking permit costs US$ 85, of which all these can be purchased for you by the agency.
Dian Fossey was an American primatologist and conservationist known for undertaking an extensive study of mountain gorilla groups in Volcanoes National Park.
Dian Fossey was murdered by unknown assailants and was buried in the Park due to her love she had for the gorillas.
After trekking the gorillas in Rwanda, you can then cross to the Democratic Republic of Congo through Gisenyi (Rwanda) to Goma (Democratic Republic of Congo). A distance from Gisenyi to Goma is about 7.8 kilometers, about 22 minutes' drive.
However, take note that you should owe a Congo tourist visa in order for you to cross the border of DR Congo and this visa can be got for you by the agency if at all you contacted in advance, at least four months earlier before your safari.
Other requirements to cross the border include; passport validity (6 months), yellow fever vaccination, and blank passport pages (1 page).
Virunga National Park is the only home for mountain gorillas in the whole of Central Africa, and the Park is located in the eastern parts of Democratic Republic of Congo.
The Park comprises of eight habituated gorilla families which trekkers will interact with and these are; Bageni gorilla family, Kabirizi gorilla family, Humba gorilla family, Mapuwa gorilla family, Munyaga gorilla family, Lulengo gorilla family, Nyakamwe gorilla family, and Rugendo gorilla family.
The trekking of gorillas in Virunga mainly takes place in its Bukima sector. During the activity of gorilla trekking, trekkers will only be allowed to spend one hour with the gorillas and should not be so close to them.
Gorilla trekking is done in groups of 8 individuals per group and these trekkers are advised to arrive earlier at the Park's headquarters as they will first be briefed about the activity before going in for it.
Some of the rules and regulations to be followed during the gorilla trekking activity include; trekkers should keep at least 8 meters away from the gorillas while viewing them, trekkers are not emphasized to use flash light cameras while taking the photos, trekkers are emphasized to minimize their voices during the trekking session, trekkers are advised not to litter in the Park, and trekkers are not advised to drink or eat from the Park, among others.
Gorilla trekking is at times a challenging activity but it is doable and the experience it offers is of a lifetime.
A gorilla permit in DR Congo costs US$ 400 and more interesting with gorilla safaris in Congo is that travelers will be able to also trek the eastern lowland gorillas, if they want, which are inhabited in DR Congo's Kahuzi-Biega National Park which is also found in the eastern parts of the country.
Besides gorilla trekking in Virunga National Park, there are also many other activities that a traveler will opt for and some of them include; chimpanzee trekking, Nyiragongo volcano hike (permit costs US$ 300), and game viewing where you will get to view many other wildlife species resided in the Park such as buffaloes, and elephants, among others.