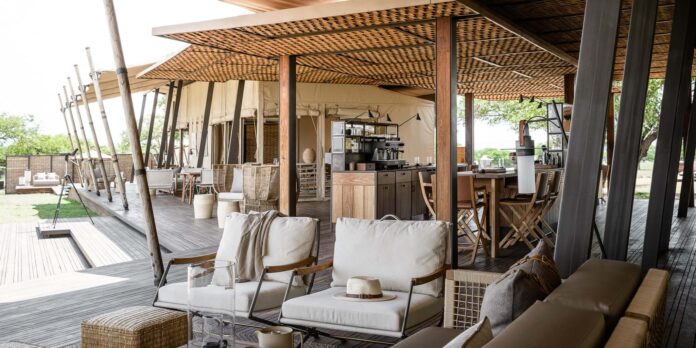 Singita is now a conservation and ecotourism brand offering guests exceptional safari experiences at 15 luxury, award-winning lodges and camps across four countries.
Featuring unfiltered space & time, Singita's award-winning lodges and camps offer remote locations, complete privacy and intuitive service at every turn. Each unique setting allows guests to truly connect with nature, and experience Africa's most pristine wildlife & wilderness up close.
Singita Kwitonda Lodge
Set at the edge of Volcanoes National Park where more than a third of the world's remaining mountain gorillas find refuge, Singita Kwitonda Lodge's unrivalled position puts life changing gorilla trekking experiences within easy reach. Each of the eight luxurious suites features a private heated plunge pool, wellness treatment area, in- and outdoor fireplaces and large timber-framed windows that welcome breath-taking scenery and volcano views inside.
The lodge is made of woven ceilings and hand-fired terracotta brickwork crafted by local artisans, with a dedicated Conservation Room and on-site nursery and vegetable garden which provides fresh produce for Kwitonda's farm-to-table food journey further enhancing the experience. Offering guests, a nurturing space within which to contemplate their encounters with the remarkable "gentle giants of the forest", the lodge envelopes them in a sanctuary of warmth, stillness & solitude.
Singita Kataza House
The two heated plunge pools, in- and outdoor fireplaces and large timber-framed windows continuously welcome the breath-taking scenery inside, ensuring a guest experience unlike any other. Set right on the edge of Volcanoes National Park, it puts luxury gorilla trekking safari experiences within easy reach and the villa's four luxurious suites provide comfortable, reflective and nurturing spaces in which to appreciate the transformative experience of coming face to face with the gentle giants of the forest.
It features a fully-equipped fitness centre, a two-bedroom staff residence, a cinema and a wine cellar, this modern African home caters intuitively for guests' every need, and the massage treatment room, interactive kitchen and convivial fire pit – making for magical fireside evenings – ensure complete comfort.
The onsite Akarabo Garden's abundant fresh produce add to the appeal, culminating in a nourishing farm-to-table food journey that celebrates the fresh flavours of this warm and welcoming country.
Singita Mara River Camp
Set in a remote and un-spoilt setting in 98,000 acres of untouched wilderness in northern Tanzania includes access to some of the world's most prized and private game-viewing opportunities, including breath-taking views of the renowned migratory route traversed annually by more than a million wildebeest.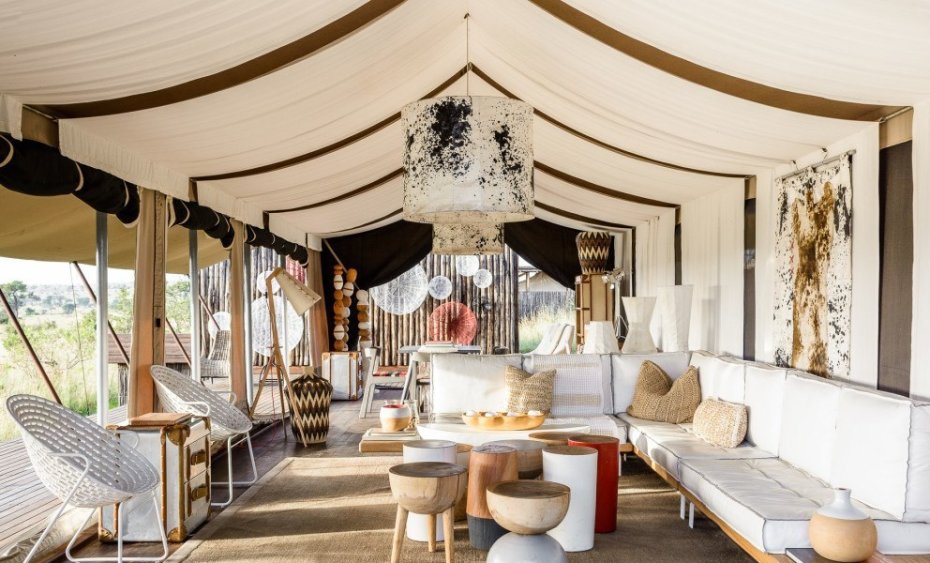 The airy spaces encourage guests to continuously connect with nature, allowing for complete relaxation and an authentic sense of calm. The epitome of sustainable tourism, the camp operates off the grid and relies entirely on a custom-designed solar system for its power and the use of recycled and natural materials wherever possible.
The Cool & contemporary elegance sets the tone for the laid back luxury that underpins the experience in this intimate setting, with natural fabrics, canvas, stone and raw leather blending in with primary Masai colours and elegant art pieces by young African designers.
Singita Explore Lodge
The authentic tents offer the thrill of camping in the most coveted wilderness settings, without forfeiting any of the comforts & intuitive service inherent to the Singita guest experience. Set up based on the requirements of each individual booking, explore offers up to six 1-bedroom custom-designed tents configured to suit the group. Functional luxury touches and campaign-style furniture, durable canvas, leather and chrome elements feature throughout.
Designed for private use, the wilderness experience includes dining under the stars, sleeping under canvas, cooling off in the camp's inviting plunge pool and a level of closeness to nature that heightens the sights, sounds and smells of the bush. It's the ideal escape for those yearning for an unfiltered African adventure, allowing them to connect with the Earth and wildlife in ways they've never done before.
Serengeti House
Boasts endless views of the vast Serengeti plains as well as the nearby waterhole where game regularly gather to drink, this modern African home includes a 25-metre rim-flow, expansive outdoor dining decks and fire pit ensuring continuous engagements with the wilderness.
The villa has four guest suites each with serene bathrooms, outdoor showers and private terraces – embody refined luxury underpinned by contemporary comfort, and this expansive property also includes an eat-in family kitchen, media room, fully-equipped fitness centre, tented massage treatment suite and tennis pavilion.
Sabora Tented Camp
Sabora Tented Camp is set in 350,000 acres of protected wilderness in Singita Grumeti, which provides guests with a front-row seat to some of the most prized game viewing on the continent including the Great Migration.
It sets the tone for a leading-edge expression of life under canvas that is light, modern & elegant. Each suite includes a private meditation deck, an outdoor sala with daybeds, a private fitness area, and a lifestyle unit with a perfectly curated in-room pantry and dining space. A unique 'Guest Deli' featuring wicker baskets and fridges filled with gourmet delights allows guests to pick and choose treats to enjoy in the privacy of their suites or picnic spots around the camp.
Faru Faru Lodge
Set within Singita's 350,000-acre private reserve in northern Tanzania, Faru Faru embodies a fresh take on African bush appeal and ushers in a new era of luxury wilderness safaris.
The Vast outdoor decks and multiple airy enclaves allow for intimate dining and drinks, while the café-style bar at the heart of the lodge hums with a subtle sparkle spilling over to the pool area and fire pit, and making for magical evenings under starlit skies.
It allows guests to experience the deeply restorative power of nature. Décor & design includes airy bedroom suites, where every creature comfort is catered for with intuitive ease and oversized windows welcome the wilderness inside.
Sasakwa Lodge provides guests with a front-row seat to the prolific wildlife in the 350,000-acre Singita Grumeti Reserve in the Serengeti.
Offering expansive en-suite bathrooms, dressing areas, fireplaces, living rooms and French doors opening onto welcoming verandas, the elegant cottages feature polished parquet floors, vintage collectables and comfortable furnishings and provide guests with complete privacy, as well as unfiltered space and time to connect with the breath-taking surrounds.
It features a grand entrance, wraparound verandas, silver candelabras and coveted antiques, as well as bespoke décor elements such as local artefacts and tribal cushions.
Singita Ebony Lodge provides a fresh & contemporary safari experience. Surrounded by the vivid colours, captivating sounds and soothing rhythms of the bush, it awakens a spirit of discovery while restoring the senses.
The lodge embodies the thrill of the African bush veld. 12 luxurious suites featuring glass and canvas walls open onto expansive private decks with plunge pools and uninterrupted river views ensure continuous connections with the wilderness.
Singita Ebony Villa pays subtle tribute to the romance and adventure of classic tented safaris, with motifs and materials from the elegant draped four poster beds, to animal print and elegant brass, wood and stone detailing that transport you to an era of adventure and exploration.
The outdoor dining space sets a peaceful scene for leisurely meals. A stone fireplace, swimming pool, spacious deck and heated plunge pools offer all-season comfort, to enjoy the elements at any time of year.
Boulders Lodge
Set along the boulder-strewn banks of the Sand River, Boulders Lodge seamlessly blends the beautiful light, colours and textures of its surrounds into vast interiors that spill onto expansive wooden decks. Simplifying the essence of comfort, it welcomes complete unwinding.
It was designed to embody the soothing shapes of ancient boulders scattered along the riverbank and completely immersed in the wild, Boulders Lodge allows you to find yourself in nature. Each of this contemporary retreat's 12 glass-fronted suites offers the utmost privacy, ultra-spacious interiors and heated pools, with handmade furnishings and soft, natural fabrics mirroring the breath-taking scenery outside.
Castleton Lodge
It combines the most refined elements of a private safari lodge with the rustic charm of a country farmhouse. Many antiques and furnishings have been refashioned, adding authenticity to the living areas that extend outdoors onto deep, covered verandas which overlook tranquil lawns, a busy waterhole frequented by game and an expansive swimming pool.
Made up of beautiful stone-walled homestead and six double en-suite cottages perfect for families and friends and accommodate up to 12 guests. Exclusive facilities include a Bocce court, extensive wine cellar, country style kitchen and tennis court, as well as state-of-the-art wellness facilities such as a fitness centre, yoga pavilion and double and single massage treatment rooms. An outdoor boma with uninterrupted views of the surrounding landscape allows for magical fireside dinners under the stars.
Lebombo Lodge
The design of Lebombo Lodge was inspired by the many eagles' nests built into the cliff face of the river bank, resulting in organic, light-filled structures, floating between river and sky.
Besides the sumptuous private suite spaces, the lodge offers a wine studio, library and rooftop terrace, an interactive kitchen, an espresso bar and help-yourself deli, and an additional 25-metre lap pool.
Lebombo Villa
Built into the N'wanetsi riverbank, its position and integration into the setting offers an experience that's expansive and uplifting.
Provides accommodation for up to eight guests in two two-bedroom suites, each with a private pool, Singita Lebombo Villa offers room to breathe and an immediate connection to nature via its organic, open-to-the-elements design. With nothing separating you from the night sky but a mosquito net, you may choose to sleep outdoors on your deck an experience that will restore your connection with nature, and instil a deep sense of calm.
Is the perfect vantage point to enjoy your surroundings during the day! Similarly, healing wellness treatments that draw on indigenous wisdom and ingredients can be enjoyed outdoors on the relaxing shaded deck.
Sweni Lodge
Tucked into the banks of the Sweni River, this intimate lodge is a hidden jewel that provides a bold, new African context for contemporary design and cuisine. Seven suites are hidden among a canopy of trees, each featuring open-plan interiors.
It has a generously stocked minibar, two bathrooms and an outdoor shower overlooking the river adding to the feeling of being enveloped by an ancient forest.
Guests have private access to 33,000 acres of pristine wilderness in the world-renowned Kruger National Park, ensuring unforgettable game-viewing experiences. With the lodge's proximity to the river, guests are also treated to up-close sightings of numerous animals and birds frequenting the area to drink or wallow in the water.
Pamushana Lodge is set in Zimbabwe's remote southeast, within the 130,000-acre Malilangwe Wildlife Reserve. Guests have exclusive access to this untouched wilderness and can immerse themselves in nature on twice-daily game drives, bush walks, Sun downer boat cruises, excursions to rock art sites and more.
Singita Malilangwe House features inimitable views of the wilderness and shimmering Malilangwe Dam. It encompasses five expansive bedrooms, each with its own private deck, as well as an interactive kitchen, a large rim-flow pool and various outdoor decks. Guests are encouraged to completely immerse themselves in the surrounds and enjoy wellness experiences such as yoga and soothing massages in their suites or on one of the many outdoor decks.