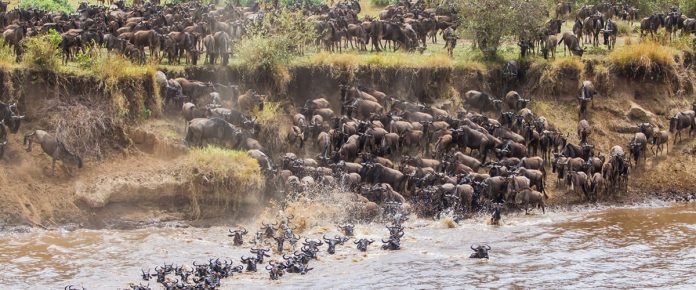 Tanzania is a country of many faces and world records. In Tarangire you find yourself surrounded by an astonishing number of elephants, the highest density in the world. The Ngorongoro crater is home to the world's highest density of game including many big cats. The annual migration of millions of wildebeests in Serengeti, accompanied by hundreds of thousands of zebras and gazelle is a unique spectacle that you will probably never forget. There are mountains Kilimanjaro and Meru, the highest and fifth highest peaks on the continent respectively.
The water world is equally spectacular, Lake Victoria, Tanganyika and Nyasa are the three largest freshwater bodies in Africa. Let's not forget Zanzibar, the magical spice island. Without doubt the highest of a vast Indian Ocean coastline studded with postcard perfect beaches, sunning offshore diving sites and mysterious medieval ruins.
I chose this company as the organizer of our Serengeti trip in Tanzania for 10 days family safari tour with guide because they offered a variety of tours on their website, supported by beautiful pictures. After establishing contact, we handled all the details smoothly, Moses was partner in everything, and our requests were included in the price offer, which turned out to be correct. On this Tanzania route we had knowledgeable gentleman Omega as our guide and every thing was so interesting as we were booked in a very suitable Tortilis safari camps that are eco-friendly and blend with nature.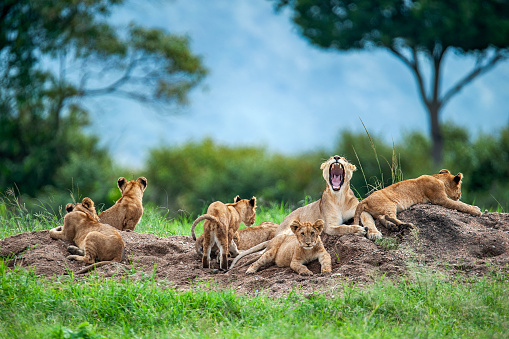 Lions in the Serengeti – Mara Reserve in Kenya & Tanzania – Africa
Emma the driver guide met us at the airport in Nairobi after an 2-hours flight from the Tanzania, he quickly transported us to the hotel we stayed in Nairobi whilst explaining how the safari experience would proceed which was a really great start and put our mind at ease.
We then flew to the Masai Mara where our tour guide (Isaac) met us, he was brilliant and really listened to our needs and adapted the tours to meet them, we were lucky enough to witness a cheetah hunting and this was largely down to Isaac's commitment and tenacity once receiving some information. We were lucky enough to be able to spend an evening watching the sunset sharing a beer with Isaac and it was a real pleasure!
Tarangire National Park
Tarangire can be very quiet during the rainy season. During the dry season, from July into October, the park is a first rate safari destination. It is notable especially for the large number of migratory elephants which congregate around the permanent water of the Tarangire River, as well as for large dry-season herds of zebras and wildebeest. Tarangire's landscapes are also alluring, with many baobabs and generally more vegetation than the Serengeti. During the dry season, I'd recommend planning at least two nights in Tarangire to appreciate all this. However, even for shorter itineraries, it's possible to have a very rewarding visit as the best wildlife watching is in the park's northern section, within easy access of the entrance gate.
Serengeti National Park
Transfer to Serengeti National Park, one of the best game reserves in the world, the Serengeti is without a doubt my all-time favorite game park. The Serengeti is one of those places that had long lived in my imagination, before I'd even laid eyes on it. Happily, it more than lived up to my expectations in fact, it surpassed them. With sweeping Savannah that seem to stretch on and on forever and an ever-changing parade of animals, there really is nowhere else on earth like it.
What's more, if you time your trip carefully you can witness one of the world's greatest natural spectacles: the annual migration. Watching as an endless stream of wildebeest and zebra driven by a deep-rooted instinct darken the vast plains in a long dust-raising column in search of greener pastures is in a word, mesmerizing.
The Ngorongoro Conservation Area
The first view of the great Ngorongoro Conservation Area from the edge of the crater is one of those African experiences you will never forget. And from the drive down into the crater onwards the experience just seems to keep getting better. By 11am we had already seen lion, elephant, and rhino, buffalo (a herd of close to a thousand!)…and shortly after lunch we saw a leopard resting in a tree. The big five within about 5 hours has to be some sort of record!
But the Ngorongoro Crater should be on everybody's Bucket List. Having said that, of course the disadvantage are the queues of vehicles snaking down the crater access road. Try and stay in a lodge as close to the descent road as possible and get up early, to be near the front of the queue in the morning.
We would highly recommend Moses and the team, it was a fantastic experience, we felt informed and involved throughout and overall really well organized trip in Tanzania and Kenya. Then as family we have started planning for our Uganda safari next year and here we want to go on self-drive road trip with rooftop tent car and Moses has assured us it is very possible and in their company they offer such cars and sample photos of these camper vans have been shared to us as you can see here below.