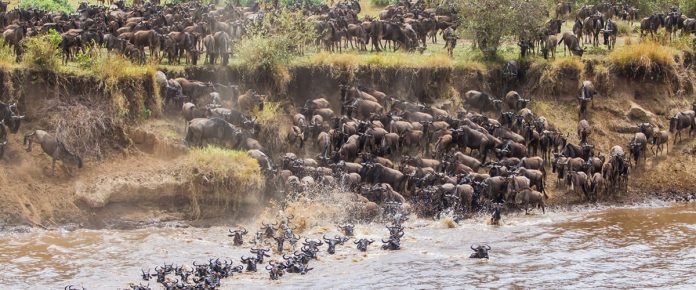 Experience both the quintessential and the singular allure of Africa's ultimate safari destination. Picture the endless golden savanna under a vast and dramatic sky as a herd of elephants ambling in front of Kilimanjaro's mighty snow-capped peak, a team of lionesses giving their cubs a hunting lesson. Visualize a million wildebeest dodging the jaws of giant crocodiles as they cross the Mara River.
Spectacles like these are only the beginning of Kenya's magic. From the sparking beaches of the Indian Ocean through to its vibrant cities, and out into the unspoiled bush, Kenya has something special to offer both newcomers and older 'safari hands'. You can't afford to miss this.
The Maasai Mara National Reserve: When asked to imagine an African safari, you'll probably picture the plains of the Maasai Mara without even realizing it. Flat-topped acacia trees dot vast, rolling grasslands covered with thousands of grazing animals.
Lions doze in the shade, while zebras nibble at the tall grass just meters away. Enormous herds of Cape buffalo with tiny oxpeckers on their backs watch nonchalantly as safari vehicles slowly drive past, while giraffes take breaks from browsing to pop their heads out of treetops.
Driving for hours across this endless, elemental landscape as the sky transforms theatrically above you is truly one of the great African experiences.
The Great Wildebeest Migration: Going hand in hand with the Maasai Mara is inevitably the 'Great Wildebeest Migration'. Heralded as one of the Earth's most remarkable natural spectacles, this perpetual procession of 1.5 million wildebeest, zebras and antelopes is nearly impossible to describe.
As thousands of ungulates nervously trundle across the red sand and ford the crocodile-infested Mara River, the sound of hooves is almost overpowering. When they reach the rolling green hills of the Mara, months are spent feasting on this nourishing grass before returning south to the Serengeti.
With the great cats and opportunistic scavengers escorting the herds for the entire duration, the thrills and excitement of this natural phenomenon are positively endless.
The Big Five: Game drives across Kenya's national parks and reserves inevitably reveal the spectacular and mighty creatures that make up the 'Big Five': buffalo, lion, leopard, elephant and rhinoceros. Early hunters coined this term, after deciding that these species were the most difficult and dangerous to hunt.
Today, these five magnificent animals are the cornerstone of an African safari, and while on your safari in Kenya they are usually relatively easy to find. Given the pervasive poaching of rhinos and elephants, and the alarming decline of Africa's lion populations, every moment with these creatures is an experience to be savored and treasured.
Authentic Maasai Village Tours: Kenya's brightly clad and intricately adorned Maasai warriors are among the continents and the world's most recognizable indigenous tribes.
These semi-nomadic pastoralists have lived in Kenya and Tanzania since the 17th century, including in several areas designated as national parks. The Maasai preserve components of their rich tribal culture by sharing their communities, Bomas (homesteads), and prized cattle herds with tourists.
A visit to a Maasai village offers many unique opportunities to learn about their vibrant history and ancient beliefs, from boma tours and traditional dance performances, to lessons in medicinal plants and bush survival, and wilderness walks with some of the world's wiliest trackers.
Amboseli National Park: Among Kenya's legendary landscapes, few stand taller than Amboseli National Park, where impressive herds of the country's largest elephants roam freely against the mighty snow-dome of Mount Kilimanjaro.
As the sun rises over 'the roof of Africa', mothers and their calves drink and bathe in glacial-fed rivers and lakes. Large game thrives on these protected plains, creating perfect photo opportunities around every corner.
The views from the top of Observation Hill have inspired generations of authors, painters and conservationists, and sipping a sun downer as the sun sets behind 'Kili' is nothing short of a transformative experience.