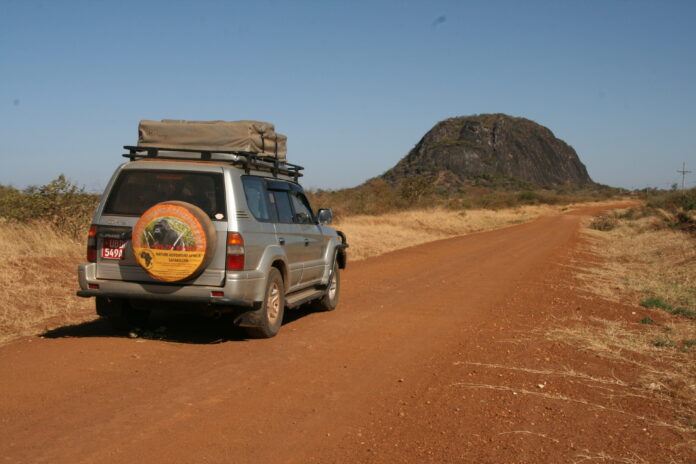 As Africa's leading car rental service, hiring a car with 4×4 Car Hire Uganda gives you the option to compare and save on thousands of rental car options. Our experienced sales team and travel advisors are waiting to help you find the right rental car for your trip and get on the road to adventure in Uganda.
If you are looking for a convenient and affordable way to travel then renting a 4×4 car with rooftop tent is the perfect solution. Apart from an excellent choice for travelling by car, renting a roof tent car also make sense when staying in one place without having to move your vehicle every time. You can simply book your rental car online and be ready to explore Uganda's attractions.
Whether your main goals are to get away for a quick relaxing week, explore new terrains or reach new places off-roading, a roof top tent car will meet your needs. Exhaustion will kick in and you will want the most comfortable place or country to rest up and do it all over again.
They can be attached to any 4×4 vehicle that supports an after-market roof rack and the tent will accommodate all adventures you're planning to have in your vehicle! This makes them a versatile choice and allows you to bring good sleep anywhere you find yourself.
Rooftop tents vehicles are an amazing solution for anyone travelling by a vehicle of any 4×4 vehicle. They allow you to sleep up off the ground, on a nice mattress, with all your bedding comforts. Not to mention, the tents are easy to set up and pack down. Combine that with your tent's thick, weatherproof walls, and you'll almost forget you're camping. And when the temperatures drop at night, sleeping off the ground will keep you much warmer.
Rooftop tents keep you safe from animals, track less dirt in, and allow you to enjoy the enhanced view that camping above-ground gives you. Quick and easy setup: With a rooftop tent, setting up camp is as easy as finding an epic location, putting it in park, and deploying your tent.
Imagine driving up a mountain, sleeping on a mattress and waking up to stunning views from high up on top of your vehicle, from experience, it's a game changer. Roof top tents are durable, built to last, as well as typically more insulated than a tent, allowing your adventures to last season to season. Having a roof top tent mounted to your vehicle allows you to take a comfortable and insulated sleeping area so you can explore well rested wherever and whatever conditions you end up in.
They handle bad weather better than ground tents and can be used in tricky terrain unlike RVs. Getting up off the ground means that you have easy viewing of the beautiful scenery just outside your tent. Some roof top tents even have built-in sky panels, so you can drift off gazing at the stars.
You are sleeping off of the ground, away from insects, critters, and nosy camp neighbors and closer to the stars. You are on a perfectly flat surface every time you set up camp. No need to move rocks or avoid roots & ruts. Rooftop tents are fast and easy to set up and break down, only about 5 minutes.
Typically roof top tents are more insulated than ground tents, being off the ground and shielded from rain, a roof top tent will help keep you clean and dry. This allows you to camp all year round, provided you have access to appropriate clothing and gear for when the weather gets cold and wet.
Everybody has a different sense of adventure, but if you're interested in car rooftop tents, it's likely you're passionate about being outside and exploring. Maybe it's visiting mountain gorillas, tracking the chimpanzees, or boat cruising on the Nile, or just having a 'couple' drinks with your pals in the bush. The durability and ridiculously quick set up and take down time makes a roof top tent vehicle the perfect companion for rocky or difficult terrain, allowing you to go further and sleep better.  Having a roof top tent on your vehicle keeps you ready for whatever adventures get you excited.
Why Choose 4×4 rooftop tents
Cheap car Hire Rates
Honesty and Trust
No Hidden Fees
No Airport fees
Free Travel Tips/Planning
Chimps Permits Bookings
Complementary Airport Transfers
Free Cancellation
Unlimited Mileage
24/7 Road Assistance
Excellent Cars
Hotels/Lodges Reservations
Gorilla Permits Bookings