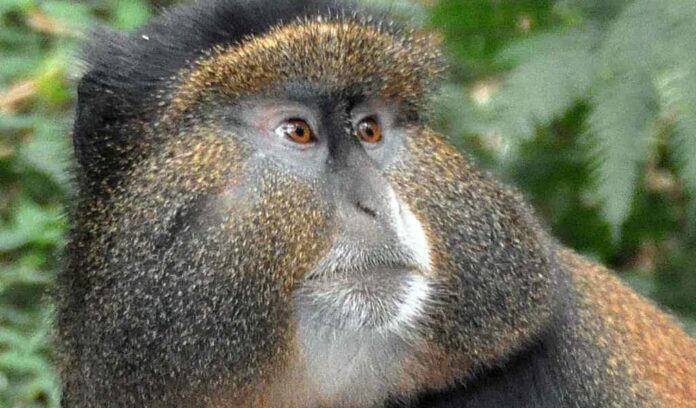 These are species of old-world monkey found in the Virunga volcanic mountains of Central Africa, including four national parks: Mgahinga, in south-west Uganda; Volcanoes, in north-west Rwanda; and Virunga & Kahuzi Biéga, in the eastern Democratic Republic of Congo. These primates are believed to be subspecies of blue Monkeys but the golden monkey has a golden-orange patch on the upper flanks and back.
These primates live in social groups of about 30 individuals and mostly feed on bamboo leaves, bamboo branchlets, bamboo shoots, invertebrates, flowers, shrubs plus fruits; they have a tendance of feeding near the sleeping area in that they feed around and return to the same sleeping location every day.
Where are Golden Monkeys found in Uganda?
These primates in Uganda are only found in Mgahinga Gorilla National Park which is located in the South Western part of Uganda near Bwindi Impenetrable National Park inclusive of the Virunga Massif.
It includes three of the eight Virunga Mountains volcanoes: Mount Muhabura, Mount Gahinga, and Mount Sabyinyo. These dormant volcanoes are international mountains, with Muhabura and Gahinga on the Uganda/Rwanda border, and Sabyinyo a tripoint on the Uganda/Rwanda/Democratic Republic of Congo borders.
It covers 33.7km2 of Area; it is characterized with both tropical moist broad leaf forests and montane forests. You can better reach Mgahinga National Park by use of Kampala – Masaka – Mbarara highway which is about 9-10 hours' drive from Kampala or you can cross from Rwanda via Cyanika border which is about 5-6 hours' drive from Kigali.
Golden Monkey Tracking in Mgahinga.
This activity is only done in Mgahinga since these primates are only found here and it involves visiting the bamboo forests of Mgahinga National Park in search of these Golden Monkeys very excited to see them while feeding, playing with young ones, moving on ground, swinging on the bamboo trees plus taking photos of them for memories.
This activity of Golden Monkey Tracking requires you to buy a permit which issues you permission and it costs $50 USD per person, usually the tracking is started in the morning where you enter the Jungle at 8:00am for these primates and by mid-day you will be done with the tracking.
During the tracking process you will have a chance of sighting other wildlife primates like different bird species, reptiles, insects and come close to the vegetation including big tree species in the Jungle.
Where are Golden Monkeys found in Rwanda?
Golden Monkeys in Rwanda are found in Volcanoes National Park the mostly known destination to visit in Rwanda. This park is located in the north western part of Rwanda created in 1925 to protect the shy endangered Mountain gorillas which were exposed to hunting. It borders Virunga National Park in Democratic Republic of Congo and Mgahinga Gorilla National Park in Uganda.
It is home to five of the eight volcanoes of the Virunga Mountains (Karisimbi, Bisoke, Muhabura, Gahinga and Sabyinyo), and spans 160 km2 covered in rain forest and bamboo forest. While in Volcanoes National Park these Golden Monkeys are found in the bamboo forested side.
Golden Monkey Tracking in Volcanoes.
This activity in Rwanda is only done in Volcanoes National Park and it involves entering into the Jungle in search of these primates very excited to see them while feeding on young bamboo leaves, stem, shoot, fruits, playing with young ones, and taking photos of them for memories but it's mostly advised not to use flush cameras when taking photos of these primates as you may scare them.
This activity is always started in the morning and by mid-day it will be done. To visit these herbivorous primates in the Jungle you must buy a permit which issues you permission and it costs $100 USD per person, you can pay it on arrival but once this money is paid its nonrefundable.