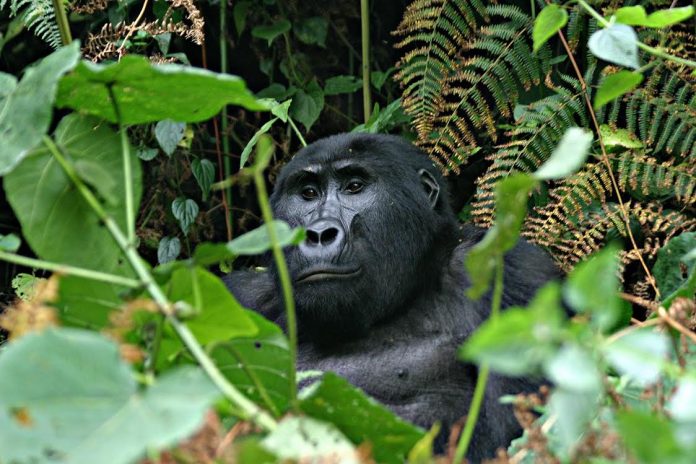 You can go to Bwindi Impenetrable National Park and Mgahinga Gorilla National Park in Uganda, Volcanoes National Park in Rwanda or Virunga National Park in Congo for mountain gorilla safari adventures.
A gorilla trek is a highlight of all visits done in Uganda and Rwanda and certainly mountain gorillas are the major reason as to why very many people visit these 2 destinations. It can be conducted all year around in Uganda, Rwanda and Congo.
The best time to go gorilla trekking in during the months of June, July, August, September and December. This is because there are fewer rains and the parks are drier, making it simple to hike and see the gorillas.
A gorilla trekking permit in Uganda costs $ 700 and 75% of the money raised is to conserve the gorilla surviving population. The government pockets 15% while 10% is meant for the local communities around the parks. As you purchase the permit, note that the cost includes park entrance fees, gorilla watching for an hour, advance trackers and ranger fees.
Uganda has 2 sections for gorilla safaris namely, Bwindi Impenetrable Forest National Park and Mgahinga Gorilla National Park. In total there are 18 gorilla groups or families and you can only track only one group a day.
Bwindi Impenetrable Forest Park has 17 gorilla groups making it the best place or park where you can see the gorillas in the wild. Bwindi tours gives you access to 90 mammal species, 11 primates including the black and white colobus monkey.
The permit offers you one hour with the mountain gorillas in a group of 8 people. In case you are threatened by the price look at it in this point of view that you are contributing to the conservation of mountain gorillas and as a form of thank you, you will be rewarded with an hour in the midst observing and enjoying their company.
Hike Rwanda's lush Volcanoes National Park for some of the most accessible mountain gorilla trekking in Central-East Africa. For one precious hour, enter the lives of these remarkable creatures. Infants playing, just as you'd expect a toddler to, adults foraging, completely unconcerned. If you're lucky, an encounter with a mighty silver back, heart-racing and never-to-be-forgotten.
Gorilla permits can be very difficult to secure during peak seasons like June to September and December to March. Gorilla permits in Rwanda currently go for $1500 – but that is only a fraction of the overall price of gorilla trekking. It is important to note that part of the money collected from gorilla permits go to support gorilla conservation efforts and community programs.
Rwanda offers you 12 habituated groups/families to choose from. Regardless of which group you eventually get, you will find that watching mountain gorillas is breath taking. You could spend hours just watching the little ones roll around and play. Mountain gorillas are always playful and quite curious.
Some may walk right up to you but with no harm intended. While with the gorillas, it's important to listen to instructions from your Guides and to always stay calm. Never make sudden movements.
Therefore, gorilla trekking tours in the Volcanoes National Park can take between one to six hours depending on the gorilla group you are assigned and their specific location on the day of the trek.
Gorilla trekking in the Volcanoes National Park has rules and regulations. You must be 15 years and above to go near the primates. The reason why children aren't allowed near the gorillas is because they tend to carry transmittable diseases like flue and cough which can be transmitted to the primates. It is one of the reasons why tourists are required to share their passport details before booking a trip.
The Volcanoes National Park is also home to the endangered Golden Monkey. These beautiful primates live in the same areas as the mountain gorillas. They survive on bamboo shoots, insects and will occasionally raid farms for potatoes. Golden Monkeys are very playful primates with their only real enemies being man and the African eagle. Golden monkeys are also found in Uganda and the Democratic Republic of Congo.
Congo has got both mountain gorillas and lowland gorillas. The lowland gorillas are smaller and have brownish-gray far coats and a distinct brow ridge, whereas the mountain gorillas are larger with darker black coats. The Mountain gorillas are the most uncommon primates in the entire world with less than 800 surviving in the African wilderness.
Democratic Republic of Congo is the best country for seeing wild eastern lowland gorillas. Lowland gorillas can also be seen in zoos around the world while the mountain gorilla can only thrive in the wild. Lowland gorillas in Democratic Republic of Congo can be tracked at the Kahuzi Beiga National Park while the mountain gorillas are found in Virunga National Park.
Mountain gorillas are generally larger in size than lowland gorillas with darker and thicker coats that are designed to help them survive in cold high altitudes. Both sub-species feed on leaves, tree shoots and fruits. Both subspecies live in families/groups led by a dominant male silver back that is responsible for the safety of the rest of the group members and keeping unruly individuals in check.
Mountain gorilla groups are generally larger with over 30 individuals at times.  The males in both gorilla sub-species stay with the group longer while the females usually leave to join other silver backs or groups once they reach maturity.
Gorilla trekking in Virunga National Park starts very early in the morning on the day of the trek. Trekkers need to wake up early, take breakfast and carry all the things they will need while tracking the gorillas. These include long sleeved shirts, a rain jacket, hiking shoes, warm long stockings, hand gloves, cameras, water, passport, VISA and gorilla permits.
The chances of seeing the gorillas in Congo are high because the Rangers always know their last location. However, there are challenges along the way which may prolong the time taken finding the group. These challenges include bad weather, the terrain and the distance from the starting point to the location of the particular gorilla group.
Once you locate the gorilla group, expect some scrutiny by the dominant silver back. After thoroughly scanning for any possible threat, the silver back will usually let you be. You will be allowed one hour with the gorilla family.
Gorilla permits should be booked in advance – at least 3 to 6 months before the planned trekking date at the cost of $400. A gorilla safari in Virunga National Park involves choosing one of the various accommodation options depending on your budget and choice.