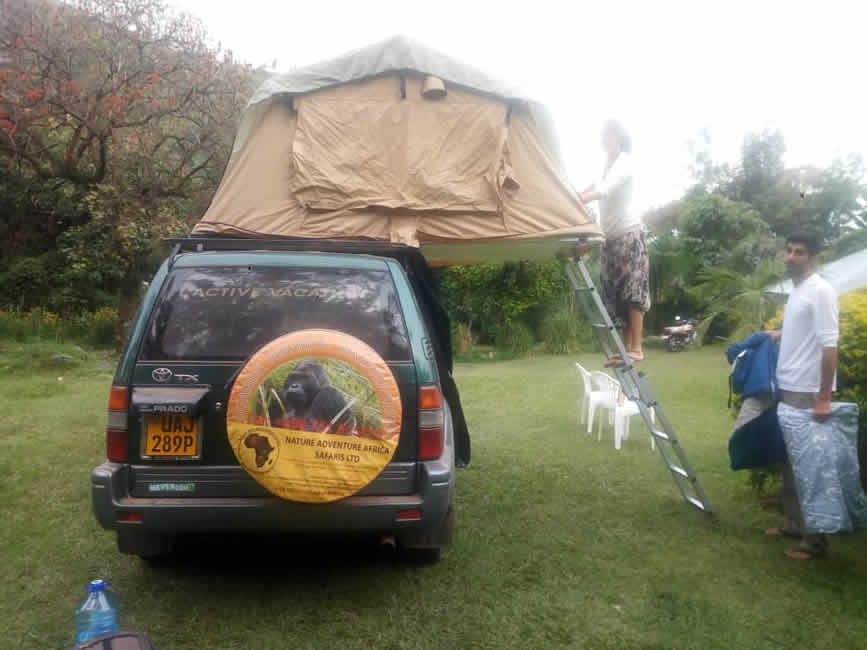 Camping is an outdoor safari activity that involves one to spend a night(s) outside, especially in the wilderness – in the camping grounds. Currently Uganda comprises of 10 national parks that heavily attract a large number of tourists annually and there are well established camping grounds in any of the 10 national parks.
Camping in Uganda is an exhilarating encounter to travelers who go to Uganda to experience and enjoy unique budget safari tours indulging in the amazing safari activities in the several destinations around the country, such as game drives and game viewing, gorilla trekking, mountaineering and hiking, nature walks, cultural encounters, boat safaris, birding, golden monkey trekking, and chimpanzee trekking, among other safari activities.
Camping in Uganda really gives you that true African feeling in the wilderness as you will be sleeping in the bush/forest amid a wide number of wildlife and bird life. You will hear the roaring of the lions in the jungle at night and in the morning, you will be awoken with the sweet songs composed by various African bird species.
You should not be scared and worried that you will be attacked by animals at night as everything is in control and there is always a stiff security at any of the camping grounds in the Parks hence you will be protected together with your belongings. Staying at any of the camping grounds is therefore very safe and secure.
Though camping is most convenient for budget travelers who look at enjoying safari adventures in the African continent at reduced prices, it is also advisable for everyone to at least get involved in camping for a while because it is a lot of fun. Many accommodations in the Parks all over the country provide camping grounds where travelers can pitch their tents to enjoy the overnight outside.
Besides being fun, camping also saves a lot of money which you will have spent on renting expensive hotels and lodges in the national parks. Some places in Uganda ideal for camping experiences include Queen Elizabeth National Park, Murchison Falls National Park, Kidepo Valley National Park, Bwindi Impenetrable Forest National Park, and Lake Mburo National Park, among others.
Therefore, once hiring a car fleet from a given car rental company in Uganda, the 4×4 Car Hire Uganda, remind it of the camping gears such that you enjoy the camping experience in the wilderness. Most authorized rental companies in Uganda comprise of good camping gears that you will move with while heading to the parks and enjoy the true liveliness of the 'Pearl of Africa' – Uganda, living in the bush.
Basically, most of the camping grounds don't need any reservations in advance and they accept guests basing on first come-first served rule. A number of cars line at the camping ground entrance each morning whereby when the first guest leaves, it is the first person in line to be accepted to occupy.
Therefore, you are advised to arrive at the camping ground as early as possible before the registration of new guests opens. In doing this, you will take a place in front of the queue and you will definitely get a place for your mobile home and you will not have to wait for it too long, thus enjoying the camping experience amid various wildlife species and bird species as well.