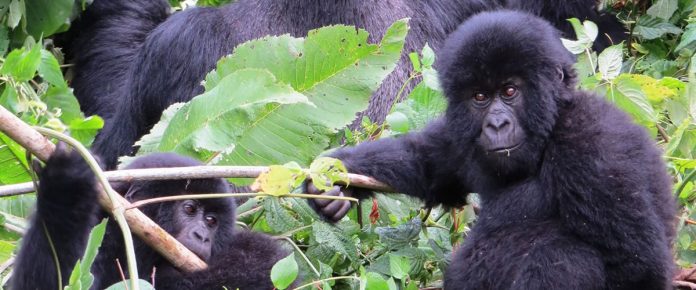 Gorilla trekking in Uganda is a once-in-a-lifetime journey to see the incredible mountain gorillas of central Africa's rain forests on the slopes of the Virunga Mountains and in Bwindi Impenetrable Forest National Park.
Uganda is arguably the best in delivering a raw untethered jungle experience to the savvy nature lover. You'll find your way through the tall, tangled vines and ancient trees that carpet western Uganda's rain forest, following an expert tracker clearing the way with a fine-edged machete.
Your best foot forward will be wrapped up in light waterproof boots, wearing long jungle pants and a ridiculous hat. Better pack a bag of patience and a good sense of humour to lighten the anticipation.
There are two gorilla trekking destinations where you can see mountain gorillas in Uganda; Bwindi Impenetrable Forest National Park and Mgahinga Gorilla National Park. These two parks offer gorilla trekking safaris excursions at five trailheads; Nkuringo, Rushaga, Buhoma, Ruhija in Bwindi, and Ntebeko in Mgahinga, all under the management of Uganda Wildlife Authority.
The best destination to see mountain gorillas in Uganda is Bwindi Impenetrable Forest National Park which has half of the world's total population. The jungle is a UNESCO World Heritage site because of its incredible biodiversity and many endangered species that find sanctuary within its protected boundaries.
Mgahinga Gorilla National Park, the second gorilla park in Uganda, takes 13 sq. miles from the more extensive Virunga habitat stretching 168 square miles into Rwanda and the Democratic Republic of the Congo. Mgahinga includes three of the eight major Virunga peaks: Mount Gahinga, Mount Muhabura, and Mount Sabyinyo.
Bwindi outshines all the gorilla trekking destinations because of the many habituated gorilla families available for tourism. The park also has several other activities within and around the park, including birding, nature walking safaris, community programs, and habituation experiences.
Daily treks begin at five visitor centre locations at 08:00 am, in small controlled groups of eight tourists, an expert tracker, and two armed rangers. You will be walking in untamed territory where anything could potentially be dangerous. Armed rangers are for your security from dangerous animals and anything else that cause visitors harm. The tracker will also be carrying a fine-edged machete for clearing your path and a walkie – talkie to communicate with other rangers and trackers.
When you finally find the gorillas, your trekking guide will ask you to wear your face mask and observe them in silence for one hour at a safe distance of about 32 ft (10 m). Visitors usually find them at their mid-morning break, so there's less movement during your experience. Your guide will advise on when to take photos and remember no flash is allowed.
At the trailhead, you will find a group of young uniformed men and women offering their services as porters. We strongly encourage you to use their services, especially if you feel you are not fit enough to cope with the terrain while carrying your day pack. Porters offer their services for a nominal amount of around $15, and you'll be providing a livelihood to several inhabitants of a nearby village.
Without work and the ability to earn a living within gorilla conservation, many will be forced to return to finding and capturing, killing gorillas for bush meat, or the illegal wildlife-trafficking trade. The incentives offered by poaching syndicates can be very lucrative for impoverished villagers with few other ways of earning a living.